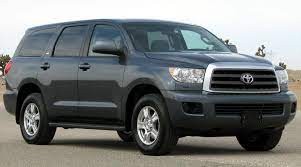 Air suspension parts Toyota Sequoia | Air spring Toyota Sequoia
Toyota Sequoia is a full-size SUV manufactured by Toyota and derived from its Tundra pickup.
Introduced in 2000 and manufactured by Toyota Motor Manufacturing Indiana in Princeton, Indiana, Sequoia is the first Japanese brand vehicle in the popular mass-produced full-size SUV in North America and was originally planned by Sequoia's first generation chief engineer Kaoru Josegawa. directed Sequoia directly to Ford Expedition and other full-size SUVs.
Sequoia is located between the average Toyota 4Runner and the first-class Toyota Land Cruiser in Toyota's North American SUV range and is the largest SUV currently produced under the Toyota brand.