Payments
Payment by bank card
If you choose to pay by card, you can make a payment with the following cards: Visa, Mastercard, Maestro. You can be sure of the payment because your data is secured with an SSL certificate. We take care of your security with your online transactions.
If you have a 3D password created on the card, you will be redirected to the service bank portal to verify the authenticity of your online payment and verify the transaction with your 3D password. Once you have entered your 3D password and completed the required steps, you need to complete the transaction. This step helps prevent unauthorized access or use of your card without your knowledge. You will receive a confirmation email after the transaction is successful.
If you haven't created a 3D password for your card, are having trouble filling out forms, or if you're having trouble / not paying or completing a transaction, contact your bank.
- European cards will charge an additional 1.9% of the total amount
- International cards issued outside of Europe and the UK will charge an additional 3.25% of the total amount
Payment by bank transfer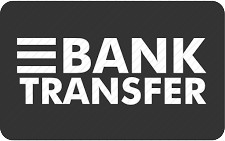 - There are no additional fees to the payment, apart from a standard transfer fee, according to your bank's tariff.
When you choose to prepay by bank transfer, you will receive an email from us with our bank account details as soon as you complete your order. As soon as we receive the order amount, your order will be sent.
If you have chosen bank payment, you must transfer the amount of the order to the account of Part Trading Ltd. The reason for the bank transfer is your order number.
Payment information:
Recipient: PART TRADING Ltd.
Bank: PROCREDIT BANK AG GERMANY
Account: DE80 5021 0800 0084 4200 00
BIC: PRCBDEFFXXX